FILM, TV WORKERS REACH "LANDMARK AGREEMENT" WITH MAJOR STUDIOS
In what the union described as a landmark agreement, the International Alliance of Theatrical Stage Employers (IATSE) reached a three-year agreement with motion picture and television producers in October. The agreement affects 60,000 film and television workers in 36 IATSE locals across the country.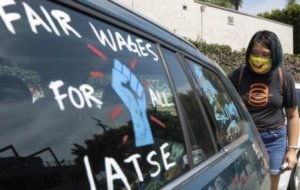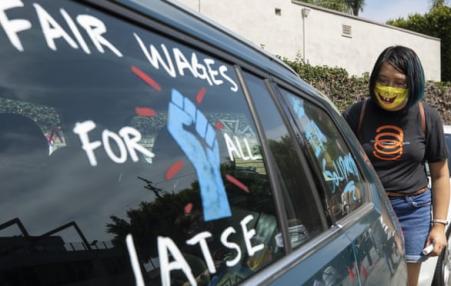 IATSE member posting a message on the car of a union member prior to the members overwhelmingly voting to authorize a strike in October. Photograph: Myung J Chun/Los Angeles Times/Rex/Shutterstock
Two weeks earlier the union members voted to authorize a nationwide strike, the first in the union's 128 year history, with 98.6% voting in favor if an agreement with the industry wasn't reached. In the union's demands, in addition to pay raises, were a list of  quality of life issues that have been plaguing workers in the industry for years. Workers were often expected to work long hours at a stretch without a break, working into the weekend through Saturday and Sunday.
The settlement includes reasonable rest periods throughout the day including weekends, meal breaks, substantial raises for those at the bottom of the wage scale and retroactive raises of 3% annually. The new agreement affects film and television workers at Warner Bros. Paramount Pictures, Walt Disney Studios, Apple, Amazon, Netflix and others.
IATSE Special Bulletin, 10/16
https://www.spotlightonlabor.com/wp-content/uploads/2021/08/icon.png
500
500
Paul Becker
https://www.spotlightonlabor.com/wp-content/uploads/2021/08/spotlight_logo_.png
Paul Becker
2021-12-24 16:58:56
2021-12-26 16:18:03
FILM, TV WORKERS REACH "LANDMARK AGREEMENT" WITH MAJOR STUDIOS