3 UNIONS COOPERATING TO UNIONIZE DELTA AIRLINES
In what is a novel partnership, three unions are collaborating to organize workers at Delta Airlines, the company that, until now, has been the least unionized of all the air carriers. At Delta, only 20 percent of its work force is unionized (mostly the pilots) compared with about 80 percent at other airlines.
The unions, the Association of Flight Attendants – CWA, the International Brotherhood of Teamsters, and the International Association of Machinists and Aerospace Workers, were former competitors over the right to organize flight attendants and other employees. The collaboration is a sign, not only of growing union militancy but also a sign of union solidarity and cooperation in the mutual interest of all workers. If successful, it could usher in cross union efforts to organize Amazon and other giant corporations spread out around the country.
Capital & Main, 8/30, courtesy Locker Associates, New York
LATEST NLRB RULING 'A SEA CHANGE' FOR WORKERS
In perhaps its most momentous decision in decades, the National Labor Relations Board on Aug. 25 restored to labor the rights for workers that had been stripped down piece by piece over the years. It ruled in a party-line vote that when a majority of a company's employees file union affiliation cards, the employer can either voluntarily recognize their union or, if not, ask the Board to run a union recognition election. If, in the run-up to or during that election, the employer commits an unfair labor practice, such as illegally firing pro-union workers (which has become routine in nearly every such election over the past 40 years, as the penalties have been negligible), the Board will order the employer to recognize the union and enter forthwith into bargaining.
The ruling followed a previous day's decision that required NLRB supervised elections to be held promptly. It sharply limited the frequent stalling tactic that companies use to indefinitely delay elections while they employ all sorts of union-busting tactics to prevent collective bargaining to take place. As one labor attorney put it, "This is a sea change, a home run for workers."
Since the Biden administration appointed two new members of the board and a new chair, it is restoring its proper role in defending labor's rights instead its practice for decades of siding with employers and undermining the rights guaranteed to workers by the National Labor Relations Act of 1935.
The American Prospect, 8/28; The New Republic, 8/25
NY ENACTS LAW BANNING MANDATORY 'CAPTIVE AUDIENCE' MEETINGS
Earlier this month, NY Governor Kathy Hochul signed into law a bill banning employers from forcing workers to attend closed-door meetings, under threat of dismissal, to hear anti-union harangues. The meetings, usually called when workers are trying to organize a union in the workplace, are filled with misinformation  about unions, designed to scare workers without allowing the union access to the workplace to counter the deceptions.
Today in New York, "Workers can no longer be forced to listen to anti-union rhetoric in the workplace," declared Tom Quackenbush, President of Teamsters Joint Council 46 in Buffalo. The New York law follows similar ones enacted in Oregon, Minnesota, Maine, and Connecticut.
MISSOURI AMAZON WORKERS CHARGE UNSAFE WAREHOUSE CONDITIONS
Amazon workers at a warehouse in St. Peters, Missouri,  have filed a complaint with OSHA that their workplace, STL8, is filled with health and safety violations. In addition to the unsafe conditions, the complaints also charge that workers injured on the job are deliberately discouraged from receiving medical care from a doctor when they are injured.
Typical of the problem, they say, is the case of a worker who tripped and fell face-down over a piece of equipment that should not have been in her path. She fell on the concrete floor, nose bleeding, with head and leg injuries. She requested seeing a doctor many times but was denied. Instead, she was given an ice pack and was sent back to work after 30 minutes. The next day, when she was able to see a doctor on her own, her leg was very badly swollen. She has suffered long term effects of the injury.
Subsequent journalist interviews with on-site Amazon medical representatives have found that management pushed them to keep injured Amazon workers on the job and away from doctors. One former medical representative said that they were told by management that high injury rates made the company look bad.
POWELL BOOK CHAIN WORKERS STAGE ONE-DAY STRIKE
Charging its employer with unfair labor practice before the National Labor Relations Board, workers at all Powell Books locations staged a one-day strike Sept. 4. The book store chain operates several stores in the Portland, Oregon, area. The biggest complaint is the wage structure which starts at $15.45 an hour, the area's minimum wage, not enough for the cost of living there, which is $21.85.
The previous union contract expired on June 7 and the union, in its filed complaint, charges that the company has been stalling in negotiations. The workers have been represented since 2000 by the International Longshore and Warehouse Union.
UNION MEMBERS AT BARNES & NOBLE STORE STAGE 3 HOUR WALKOUT
Union workers at Barnes & Noble in Hadley, Mass., walked out last Friday protest staffing issues. The union says the store is understaffed. The walkout lasted from 2 PM to 5 PM. Staff members at the Hadley store voted to unionize with the United Food and Commercial Workers Local 1459 last May.
Publishers Lunch, 8/28
APPROVAL OF UNIONS REMAINS AT ALL-TIME HIGH
Public approval of labor unions continues to remain at the highest level in the past 60 years, according to the latest Gallup poll. Even though the large number of recent strikes have inconvenienced some, the public today looks to unions as a a means of leveling the playing field with powerful corporations who have registered record profits over the past two decades. Below is a chart released by Gallup illustrating the point.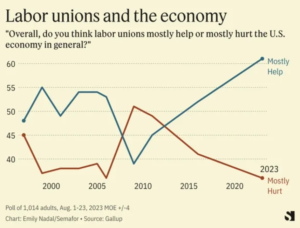 Courtesy Locker Associates, New York
https://www.spotlightonlabor.com/wp-content/uploads/2021/08/icon.png
500
500
Paul Becker
https://www.spotlightonlabor.com/wp-content/uploads/2021/08/spotlight_logo_.png
Paul Becker
2023-08-29 16:21:02
2023-09-27 15:30:10
SEPTEMBER BITS AND PIECES