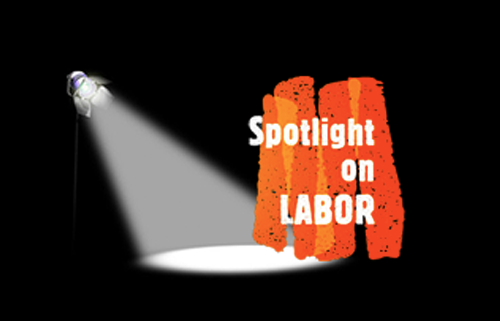 DHS WIDENS PROBE INTO ILLEGAL MIGRANT CHILD LABOR
The Department of Homeland Security has widened its investigation into migrant children found cleaning slaughterhouses and is now working with the Justice Department to examine whether a human smuggling scheme brought migrant children to work in multiple slaughterhouses for multiple companies across multiple states, according to two U.S. officials familiar with the investigation.
IAM WINS BIG CONTRACT AT LOCKHEED
In a historic win for a union, the International Association of Machinists and Aerospace Workers (IAM) has successfully negotiated a contract covering its workers at Lockheed Martin plants all across the country.
The agreements cover 4,000 workers at the company's facilities in Georgia, California, Florida, West Virginia, and Mississippi. It provides for historic pay increases, varying from 34.7 percent to 41.5 percent – depending upon the individual facility – over the life of the contract. It also provides for a $5,000 bonus, and an increase in the annual cost of living supplement. Non-salary item benefits include reductions in the cost of their comprehensive healthcare coverage and doubling the company's contributions to their retirement fund. The contracts will last six years for Lockheed plants in Georgia, West Virginia and Mississippi and five years for the five plants in the other states.
Lockheed Martin is one of the largest US military and space equipment manufacturers.
NYC TRANSIT UNION SEEKS TO CHANGE STRIKE-BUSTING NY STATE LAW
Transport Workers Union Local 100, representing the thousands of city bus and subway workers, are strongly pushing efforts by two state legislators to amend the New York State's Taylor Law which outlawed strikes by public workers in the state. The law provides for stiff fines for unions that strike and some jail time for its leaders. The proposed bill would eliminate the penalties for unions that strike.
RAIL COMPANY  TOLD WORKERS TO SKIP INSPECTIONS
In the wake of the disastrous derailment of a Norfolk Southern freight train in East Palestine, Ohio earlier this year, a worker at Union Pacific rail has come forward to claim that ignoring safety rules is part of the nation's rail industry.
In a a leaked audio, a manager for Union Pacific is overheard telling Stephanie Griffin, a former carman for the company, to stop marking rail cars for broken bearings. Part of a carman's job is to inspect cars and send those in need of repairs to the rail yards. Her manager told her that the process would delay train schedules.
The East Palestine disaster involved a train carrying toxic chemicals. It has disrupted life in the entire town as more and more residents complain of illnesses related to the release of toxic elements in the air and water supply. The Norfolk Southern derailment there was caused by a failure in the train's wheel bearings, the same thing for which Griffin was ordered to stop marking cars for repairs at Union Pacific.
Griffin claimed that the practice was widespread throughout the industry. "It's obvious that management is not concerned with public safety and only concerned with making their numbers look good," she said.
Train derailments are more widespread than most people are aware of. In 2022, there were 818 derailments with 447 cars carrying hazardous materials that were damaged or derailed.
LABOR ACTIONS STEPPED UP IN 2022
Strikes and work stoppages continued to increase last year as workers, dissatisfied with low pay and poor working conditions took direct action in confronting employers. Most of the work stoppages were conducted by unions but some of them involved walkouts by workers not affiliated with established unions. The largest percentage on these actions took place in the food services and accommodation industry, historically the one with the worst wages and working conditions.
According to figures compiled by Cornell University Institute of Labor Relations, there were 424 work stoppages in 2022, 417 strikes and seven lockouts. They involved about 224,000 workers taking part in 4,447,588 strike days. Employees in the food services and accommodations industry accounted for more than one-third of all the actions but since they usually worked at small establishments, the total number of these workers was small. Most of them were led by Starbucks Workers United. The majority of workers involved in strike actions were in educational services as grad student employees were organizing on an unprecedent scale and teachers struck in a number of places.
Labor Action Tracker, Cornell University institute of Labor Relations, 2/25
ELECTIONS HAVE CONSEQUENCES –THIS TIME FOR THE BETTER
Last November's election brought Democratic majorities in both houses of the state legislature and the governor's office in Michigan, the first time the state had a trifecta like this in decades. The result was a huge boost for the labor movement and its ability to organize workers.
Earlier this month, the legislature repealed the state's so-called "right to work" law that had been enacted by Republicans. These "right to work" laws, in force in a number of states, enables workers to  receive the benefits of their union's collectively bargained raises and benefits while exempting them from paying any dues to their union. It encourages workers to leave their unions to save money on union dues, thinking erroneously that their benefits will continue even if the union is weakened.
The new law goes to Gov. Gretchen Whitmer's desk and she is expected to sign it. The United Auto Workers has a strong presence in Michigan and its future strength and those of other unions will be greatly aided by the law to the benefit of working people in the state.
UE LOCAL GETS COMPANY TO END TWO-TIER PENSION SYSTEM
After an intensive campaign, Local 770 of the United Electrical, Radio and Machine Workers (UE) signed a contract with Hendrickson Truck Suspension company that ended its two-tier pension system. The system, along with a two-tier wage system that discriminates against younger workers, had been imposed on workers in 2010 when the company threatened to close its Kendalville, Indiana  plant. The union was able to get rid of the two-tier wage system in a subsequent contract. Now the two-tier pension system has also bitten the dust in the latest contract with the company, which was approved by the union membership in a 2-to-1 vote. Hendrickson manufactures medium and heavy-duty vehicle suspensions and components for the global commercial transportation industry.
CUNY FACULTY UNION NGEARS UP FOR NEGOTIATIONS
The Professional Staff Congress, representing about 30,000 faculty and staff at the campuses of the City University of New York has made its priorities known as it prepares to go into negotiations with the city. In addition to better salaries it is demanding better job security, and health, safety, and "salary equity for the 11,000 adjunct faculty, lab technicians and other lower paid workers in the system. Their contract, which expired at the end of February, has already established the principle that their jobs required extensive work ourside the classroom, like preparing for classes, grading papers and exams, etc. It gave them one hour's pay for every three hours in the classroom. This time, the union is trying to get them parity with what other faculty -primary lecturers – on the same level are paid.New York City Mayor  Eric Adams meanwhile is demanding cuts the union says is disruptive to the university.
Workbites, 3/1
30 TESLA WORKERS FIRED FOR INTENTION TO UNIONIZE
In mid-February, a few days after Tesla workers in Buffalo announced their intention to unionize, about 30 of the workers were fired. The company's union-busting move is another in a long line of illegal actions taken to thwart its workers right to unionize, a right written into labor law. One of the workers, Arian Berek, had recently received a promotion one two pay raises after getting good performance raises but was fired after becoming an organizer for the union, Tesla Workers United.
More Perfect Union,m 3/3
https://www.spotlightonlabor.com/wp-content/uploads/2021/08/icon.png
500
500
Paul Becker
https://www.spotlightonlabor.com/wp-content/uploads/2021/08/spotlight_logo_.png
Paul Becker
2023-02-28 13:40:00
2023-03-29 16:39:49
MARCH BITS AND PIECES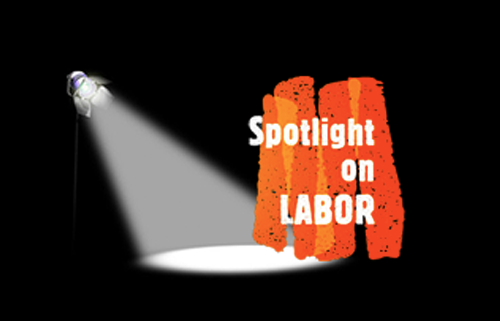 STRIKE VOTE AUTHORIZED AT CATERPILLAR
Caterpillar, the big farm equipment manufacturer, is facing a possible strike in a few weeks after 6,000 members at its plants in Illinois and Pennsylvania voted overwhelmingly to authorize one. Their contract expires March 1.  A powerful encouragement for the Caterpillar labor action has been the strike at another farm equipment firm, John Deere, a few months ago that netted the workers a very good contract.
DISNEY WORKERS URGED TO VOTE NO ON LATEST OFFER
The 45,000 members or Florida's Service Trades Council who work for Disney were urged to vote no on what the company says is its "best offer." Although the union has not yet voted for an authorization for a strike, the situation remains volatile
KING KULLEN WORKERS AUTHORIZE WAKOUT
On Long Island, New York, several thousand employees of the King Kullen grocery chain, members of Local 1500 of the United Food and Commercial Workers voted to authorize a strike. Their contract expired in December.
Who Gets the Bird, 1/22-29
UE REGISTERS BIG WINS AMONG GRAD WORKERS
Thousands of graduate school workers have voted to be represented in collective bargaining by the United Radio and Machine Workers (UE) over the past few weeks. Among them are 3,000 workers at Northwest University in Evanston, Illinois where UE won over 93 percent of the vote and Johns Hopkins University in Baltimore which saw 97 percent of its  31,300 grad workers voting to join UE. Still waiting final a final vote count on March 18 are 3,000 more at the University of Chicago.
NLRB RULES STARBUCKS UNION-BUSTING BROKE THE LAW
A three-member panel of the NLRB on February 13 upheld a judges finding two years ago that Starbucks repeatedly violated labor law by firing workers who were in the process of organizing a store in Philadelphia. The board the reinstatement wirh back pay for the workers who were dismissed in late 2019 and ealy 2020.
HARPERCOLLINS WORKERS RATIFY NEW CONTRACT
Editors and workers in the marketing, sales and other departments at HarperCollins publishers, who have been out on strike since November 10, have ratified a new contract and returned to work. The contract gains higher pay, a company commitment for more staff diversity, and greater union rights, the three major issues in the strike. A one-time bonus of $1,500 per worker upon ratification was also part of the settlement. HarperCollins is the only one of the five major publishers that is unionized but the settlement has the potential of encouraging unionizing efforts at other publishers.
WARRIOR MET MINERS OFFER TO RETURN TO WORK
In what appears to be a major concession, workers at Wxarrior Met coal in Brookwood, Alabama, on strike for nearly two years have made an unconditional offer tt return to work without a contract. The local of the United Mine Workers union have been on strike over the issue that they made concessions several years ago to keep the company afloat when it was in trouble but the concessions were not rescinded now that the company has become highly profitable. The strike originally involved 1,100 workers but only 800 of them are now available to return to work. During the strike, judges outlawed picketing of the company's facilities and hundreds of workers scabbed. Union members then picketed the corporate offices of the company in New York The union's offer recognizes a stalemate in the strike which saw Met Warrior's quarterly net income drop to $99.7 million in the fourth quarter of 2022, compared with $138.5 million for the same period the year before. The fact that it still recorded a healthy profit means that it can afford to negotiate a decent settlement with the union. The union's offer included the statement that negotiations would continue until a contract is reached.
PUBLIC TRANSIT WORKER ACTIONS
Labor actions among workers on public transit lines increased this month. So far,  a strike is now in its eighth week in Loudoun County, Virginia, led by the American Transit Union Local 689 against the private company running the system. Not far from there in Virginia's Prince William County about 150 transit workers who belong to Teamsters Local 639 shutdown the county's OmniRide system when they struck against the same company. In Columbia, Missouri, transit workers along with other public workers organized and held rallies for a 10 percent pay hike and against a proposed cut in public transit service. Leading the action there is Laborers Local 955. Meanwhile, members of UAW Local 2300, representing transit workers in Ithaca, New York, approved a contract after eight months without one.
Who Gets the Bird, 1/29 – 2/19
OTHER UNIVERSITY WORKER ACTIONS
Awaiting a ratification vote is a contract negotiated by AFT Local 6290 for 600 grad school workers at Temple University in Philadelphia. After 10 months of negotiations, the clerical workers union at Harvard has set up picket lines. And in a new development, undergraduate students at Dartmouth College employed at campus jobs have won a $21 minimum wage after organizing last and recently threatening to strike.
Who Gets the Bird, 1/29 – 2/19
https://www.spotlightonlabor.com/wp-content/uploads/2021/08/icon.png
500
500
Paul Becker
https://www.spotlightonlabor.com/wp-content/uploads/2021/08/spotlight_logo_.png
Paul Becker
2023-02-17 17:32:51
2023-02-28 13:43:32
FEBRUARY BITS AND PIECES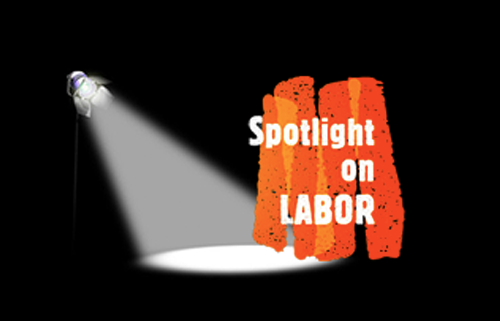 STRIKES ENGULF BRITAIN AS WORKER DISCONTENT RISES
About 100,000 civil servants in the UK are set to strike next month, affecting services around the country. Workers for 124 government departments and agencies will walk out on February. 1, impacting a range of public services including driving tests, passport applications and welfare payments, the Public and Commercial Services Union said in a statement. If the strike takes place, the government workers will join the thousands of rail workers, transport workers National Health Service workers and others already on strike  in a series of labor actions the UK has not seen in years as workers protest cuts in pay.
Bloomberg, 1/11; also see Rail Strike Bloomberg, 1/11
BOOK LAUNCH PARTY
You're invited!  Locker Associates is hosting a Book Launch Party for an important new book, Labor Power & Strategy by John Womack, Jr. and edited by Peter Olney and Glenn Perusek.
Place:  Locker Associates, 225 Broadway, Suite 2625, NY, NY 10007
Date:   February 6th
Time:   5:00pm to 7:00pm
Labor Power & Strategy offers major insights into a key question facing the U.S. labor movement, including how to marshall power to win organizing drives in the twenty-first century.  The collection of articles is a must-read for a new generation of labor organizers who are on the front lines at Starbucks, Amazon and Trader Joes. Experienced labor leaders will also find this material very stimulating and evocative.
If you would like to attend, please respond to this email at

[email protected]

by January 23rd.
022 HIT HIGH IN LABOR STRIKE ATIVITY
Last year saw a record 17-year high in strike activity by unions, according to Bloomberg News, driven in part by actions at over 100 Starbucks  stores. The number of strikes  was more than double the year before, although in terms of the number of workers involved, it did not match the years 2018 and 2019 when strike waves swept educational institutions. In those years, 80 percent of the strikers were in the field of education.
Who Gets the Bird, 1/8-1/15
DISNEY UNIONS RECOMMEND REJECTION OF INSULTING PAY OFFER
The Service Trades Council Union, comprised of six unions representing the 42,000 workers art Disney World in Orlando, Florida, has recommended that its members turn thumbs down on the $1 an hour pay raise offer of Disney in their upcoming contract . The insulting offer to workers, who currently earn an average of $16 an hour, signals tough negotiations ahead.The six unions ion the STCU are IATSE Local 631, Teamsters Local 385, TCU-I(AM Local 1908, UFCW Local 1625, and Unite Here Locals 362 and 737.
Who Gets the Bird, 1/18-1/15
HARPERCOLLINS  WORKERS RALLY IN SUPPORT OF STRIKE
In a development in late January, both HarpderCollins and UAW Local 2120, the union representing the 200 HarperCollins who have been out on strike since November, have agreed to a mutually acceptable mediator to help settle the strike.
Workers in the editorial, sales, marketing, and other departments, at HarperCollins publishers, on strike since November 10, marked the 50th day of their strike with a large rally in front of News Corporation in Manhattan, parent company of the publisher. News Corporation is owned by Rupert Murdoch, the right-wing media tycoon, and is also the parent company of the ultra-right Fox News.
Union members of UAW  Local 2110
are striking for higher pay (their current wage goes not enable them to live in a high priced area like New York so many have to rely on the income of spouses or parents), a commitment to diversifying the staff, and stronger union protection. Negotiations have been going on and off since December 2021 and workers have been working without a contract since April 2022. After months of failed negotiations and a 
one-day strike
 on July 20, 2022, the union authorized another strike last November.
"Management has been very uninterested in bargaining with us over our proposals," said Laura Harshberger, union chairperson and senior production editor for HarperCollins Children's Books. "I don't know why the company has been so antagonistic to us this time around … My only understanding of it is that they don't believe that HarperCollins should have a union, and they're trying to union-bust, but we're not letting them."
The company has hired temporary editors as strikebreakers but many of its authors have refused to work with them and have honored the picket lines.
Publishers Weekly, Jan. 13, Jan. 18; Portside,Jan. 19
LATEST WORKRS TO ORGANIZE
Among the latest group of workers to vote for union representation are; employees at Peet's coffee chain in North Davis, California, who voted 14-to-1 to be represented by the Service Employees International Union Local 1021. In their petition for representation, they wrote, "We are overworked, understaffed, and underpaid."  They were assisted in their organizing drive by the Starbucks United union organizers.
Council 5 of the American Federation of State, County and Municipal Workers. were voted to be the union representing then 250 workers at the Science Museum of Minnesota. The union says it represents about 35,000 workers in cultural institutions nationwide.
Portside, 1/24,1/20
https://www.spotlightonlabor.com/wp-content/uploads/2021/08/icon.png
500
500
Paul Becker
https://www.spotlightonlabor.com/wp-content/uploads/2021/08/spotlight_logo_.png
Paul Becker
2023-01-15 17:00:40
2023-01-29 17:44:38
JANUARY BITS AND PIECES